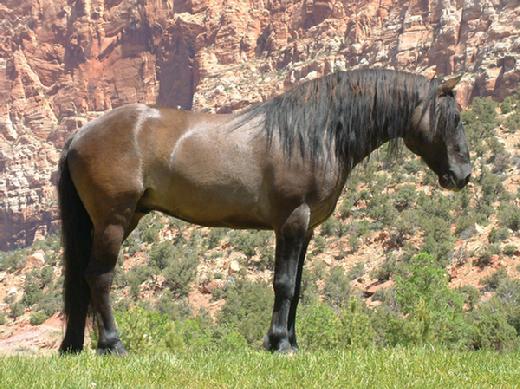 Santiago, photographed in Utah by Rachel Barlow
Santiago
Stallion, Slate Grullo, Feral-born, 1997

Santiago
was captured in January 2001, one of approximately 60 horses (including our mares Ramira
and Anica
) rounded up at Mountain Home, and placed for adoption. Santiago has tremendous dignity and authority, a true mountain monarch, an intimidating warhorse. Yet he is easy-going, secure in himself and not combative with other males. Years of group socialization, running with a bachelor herd in the wild, may help account for this.


Santiago's intelligence, quiet commonsense, strength, brio and fluid grace are the epitome of the ideal Spanish Horse. Santiago scored 100% perfect conformation during registry breed inspection. He is a near-perfect specimen of Colonial Spanish Horse, the legendary Iberian horse of antiquity.

He has sired four full-Colonial Spanish offspring out of Ramira, four out of Wildfire, one out of Anica, and many magnificent half-Colonial Spanish offspring, whose style and exceptional good looks speak volumes for the valuable foundation Spanish genetic pool that this stallion represents.


Full-Colonial Spanish offspring:



Chiquita (filly b.2003 - Bayo Tigre)
Vaquero Gold (colt b.2004 - Bayo Tigre)
Isabella de Guzman (filly b.2006 - Bay roaning with age)
Vaquero Silver (filly b.2007 - Silver Grulla)
Conquistador (colt b.2007 - Bayo Tigre)
Mithril (filly b.2008 - Silver Grulla)
Quicksilver (filly b.2009 - Silver Grulla)
Iberia (filly b.2009 - Silver Grulla)
Silver Eagle aka Smokey (colt b.2011 - Silver Grulla)




Half-Colonial Spanish offspring:



Diabla (filly b. 2004 - Black) Dam was half Appendix QH, half Kiger

Numerous others, mostly grullos and blacks (black dun gene very dominant), and one palomino (out of a palomino mare).